Commander voor beginners 1/2
door Morph 9 maanden geleden
Commander
Het Magic formaat dat zo verslavend is, dat na een tijdje zelfs je handen naar karton gaan ruiken. Door velen op het Bazaar of Magic forum bestempeld als favoriet formaat, maar voor beginners kan het wat overweldigend zijn. In dit stukje proberen we dit formaat begrijpelijk uit te leggen, en wat duidelijkheid te scheppen in de chaos van
Commander
.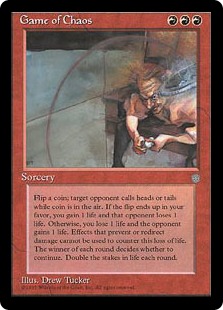 Regels
Beginnen bij het begin: Regels. Simpel gezien is Commander een deck building formaat met een paar eigen extra regels:
Een deck moet exact 100 kaarten bevatten.
Van die 100 kaarten moet er 1 een Legendary Creature welke in je
Command zone
begint. Dit is je Commander.
Je deck mag alleen kaarten bevatten in dezelfde kleuren als je Commander.
Elke kaart mag maar 1 keer voorkomen in je deck, met uitzondering van Basic Lands. Deze mogen vaker gespeeld worden.
Je begint het spel met 40 levens.
Je mag je Commander uit de Command zone spelen, en als deze doodgaat of het spel verlaat mag je deze terug in de Command zone leggen. Iedere volgende keer dat je de Commander speelt uit de Command zone kost deze extra. (en de keer daarna extra, en daarna extra, etc, etc.)
Als je gedurende het hele spel 21 combat damage of meer van 1 Commander krijgt heb je verloren. Dit wordt dus per Commander bijgehouden.
Daarnaast gelden de standaard Magic regels, bijvoorbeeld dat je bij 0 levens verloren hebt of dat je verliest als je geen kaart kunt pakken.
Thats it! Er zijn nog wat uitzonderingen en vreemde regelkronkels, maar deze staan allemaal keurig uitgelegd op de
Commander
Help pagina welke je maar eens door moet nemen als je de basics onder controle hebt.
Fun
Commander kan in verschillende competitieve manieren gespeeld worden. De meeste Commander spelers hebben de focus op plezier maken. Niet de eindzege is het doel, maar de spel-ervaring.
Een voorbeeld hiervan: Robin speelt een gekickte
Rite of Replication
en kiest zijn eigen
Grave Titan
, vervolgens speelt Adriaan in reactie een
Gather Specimens
waardoor alle creatures zojuist aangemaakt bij hem in het spel komen. Bassie speelt echter de volgende beurt een
Necromantic Selection
en nadat het stof is neergedaald heeft Bassie nog een
Grave Titan
met Zombie tokens.
Spel-ervaring zoals dit samengevat in de prachtige zin:
"Create games that you'd love to remember, not the ones others would like to forget."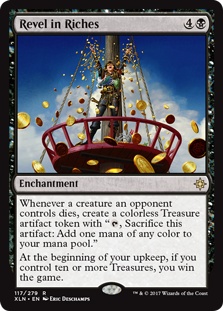 Voordelen en nadelen
Genoeg filosofisch geneuzel met clowns en acrobaten. Door met belangrijke zaken: wat zijn de uitdagingen van Commander:
Je hebt redelijk veel kaarten nodig om een deck te kunnen bouwen.
Je hebt meerdere spelers nodig. Je kunt het met 2 spelers spelen. Maar in de basis is het echt een multiplayer formaat.
Een gemiddelde Commander pot duurt een stuk langer dan een normaal potje Magic.
De voordelen zijn daarentegen wel indrukwekkend:
Je kunt spelen met kaarten en tactieken die in andere formaten niet speelbaar zijn.
Je kunt grote dure gave kaarten spelen zoals een
Genesis Wave
voor 16, of een leger aan draken door
Utvara Hellkite
.
Je Commander is altijd beschikbaar! Ook direct een mooi startpunt om je deck omheen te bouwen.
Willekeurigheid en Chaos! Dit is geen "Bug" maar juist de bedoeling, doordat alle kaarten maar 1 keer in je deck zitten krijg je meer willekeur en onvoorspelbaarheid, dus spellen gaan niet snel op elkaar lijken!
Creativiteit, de restrictie van 1 exemplaar van een kaart zorgt ervoor dat je je collectie door moet spitten naar kaarten die je anders nooit speelt.
Volgende week lees je meer in deel 2!