The Colors of Magic - Wit
door MagnusMagicus 7 maanden geleden
Geschreven door LeKrutes.

Ik wil graag iedereen eens meenemen in de voor en nadelen van de kleuren van Magic en deze benaderen vanuit een Commander perspectief. Allereerst zal ik mij even voorstellen. Ik ben Mike, 29 jaar, vader van 2 kinderen en speel nu 15 jaar Magic. In 2011 ben ik begonnen als een Commander speler met de toenmalig precons en speel nu ongeveer 1 a 2 keer in de week een paar potten Commander in een casual omgeving. Nu we deze formaliteit uit de weg hebben laten we het hebben over de kleuren.

Ik volg de kleuren zoals ze staan op de Magic kaart. Wit, groen, rood, zwart, blauw en als laatst kleurloos. Ik zal hun positieve en negatieve eigenschappen benoemen, maar ook wat ongeveer de filosofie is van de kleur. Ook zal ik kijken naar een aantal eigenschappen die voor Commander erg belangrijk zijn zoals: mana ramp, card draw/advantage, targeted removal, board wipes en eventuele overige eigenschappen.

De reden dat ik kijk naar deze 4 parameters komt omdat deze noodzakelijk zijn om een werkend Commander deck te kunnen maken.


== Wit ==
Wit heeft als filosofie gelijkheid: "The needs of the many outway the needs of the few". Dit zie je duidelijk terug in kaarten als
Magus of the Balance
,
Wrath of God
en
Martyr's Bond
. Daarnaast heeft wit ook als doel vrede en een sterke geloofsovertuiging. Denk aan kaarten als
Worship
en
Avacyn, Angel of Hope
.
Ramp:
Door de witte identiteit van gelijkheid zijn bijna alle ramp kaarten in wit een manier om je mana achterstand in te halen. Denk aan kaarten als
Knight of the White Orchid
. Ook de manafix is op die zelfde manier gemaakt: denk aan
Gift of Estates
en
Land Tax
. Hier heb je vaak alleen wat aan als je niet als eerste bent begonnen of een achterstand hebt daarnaast zoeken deze kaarten vaak alleen maar
Plains
op. Je kan hierdoor wel duals opzoeken om alsnog je color te fixen. Kaarten in wit die je wel echt meer mana geven zijn
Kor Cartographer
en
Smothering Tithe
.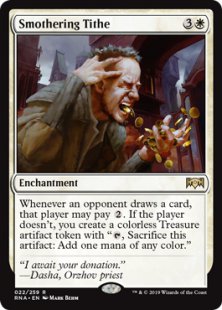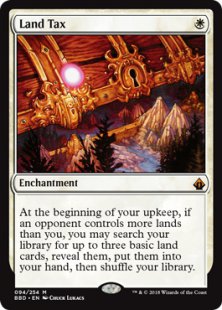 Card draw:
Nog een zwakheid in wit. Die wel steeds meer wordt opgelost. Tot nu toe er maar paar kaarten die je echt goed in je thema kan verwerken. Dit zijn
Mentor of the Meek
,
Mesa Enchantress
,
Sram, Senior Edificer
,
Puresteel Paladin
,
Dawn of Hope
,
Kor Spiritdancer
,
Bygone Bishop
. Doordat wit vaak een muur probeert op te bouwen is de monarch ability ook een goeie toevoeging denk aan een kaart als
Palace Sentinels
. Maar de pure card draw die Groen, Blauw en Zwart hebben kan wit niet evenaren.
Targeted removal:
Wit is de kleur die antwoord heeft op alles. Dit is ook de reden dat wit weinig tot geen card draw krijgt/heeft. Het heeft antwoord op alles maar weinig tools om ervoor te zorgen dat deze antwoorden ook naar boven komen. Er is geen permanent type waar wit niet vanaf kan komen. Wit heeft veel kaarten met een
Oblivion Ring
/
Banishing Light
effecten zoals:
Trapjaw Tyrant
,
Angel of Sanctions
,
Grasp of Fate
en
Angel of Serenity
. Maar ook veel traditionele targeted removal zoals
Swords to Plowshares
,
Path to Exile
,
Condemn
,
Crush Contraband
,
Forsake the Worldly
en
Oblation
.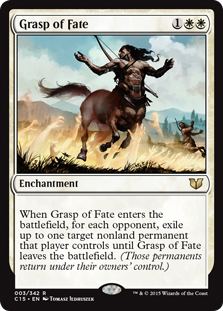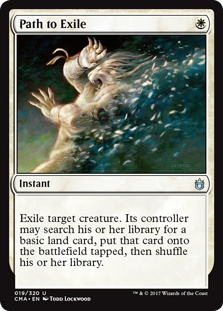 Boardwipes:
Wit heeft net als zijn removal antwoord op alles. Denk aan boardwipes als
Hour of Reckoning
,
Planar Cleansing
,
Play of the Game
. Ook heeft wit hele specifieke boardwipes voor een type, zoals
Day of Judgment
,
Fumigate
,
Rout
,
Cleansing Meditation
,
Armageddon
.
Daarnaast heeft wit ook veel boardwipes dit vaak een one sided boardwipe is zoals kaarten als
Austere Command
,
Cleansing Nova
,
Dusk // Dawn
,
Fell the Mighty
,
Elspeth, Sun's Champion
,
Citywide Bust
,
Winds of Rath
,
Mass Calcify
en
Harsh Mercy
. Hier zal wit ook vaak zijn card advantage vandaan kunnen halen. Door het hele veld op te ruimen maar alleen hun eigen permanents te laten liggen.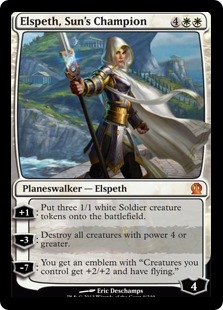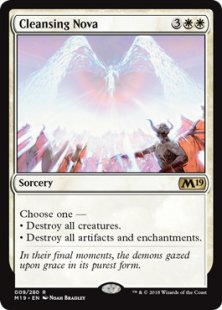 Overige eigenschappen:
- Wit heeft veel kaarten die grote hoeveelheden kleine tokens maken. Denk aan kaarten als
Increasing Devotion
,
Elspeth, Sun's Champion
,
Decree of Justice
,
Martial Coup
.
- Wit heeft ook veel kaarten die een kleine (vaak +1/+1) bonus geven. Denk hier aan kaarten als
Honor of the Pure
,
Dictate of Heliod
,
Cathars' Crusade
,
Tempered Steel
,
Glorious Anthem
,
Marshal's Anthem
.
- Wit heeft natuurlijk ook veel kaarten die iets doen met life gain. Denk aan
Archangel of Thune
,
Crested Sunmare
,
Ajani's Chosen
,
Soul Warden
.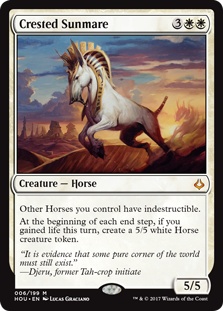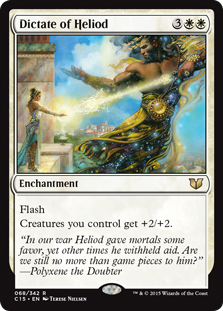 - Wit heeft ook veel kaarten die geven om enchantments/aura's. Denk aan kaarten als
Sigil of the Empty Throne
,
Sphere of Safety
,
Starfield of Nyx
,
Open the Vaults
,
Eidolon of Countless Battles
.
- Wit heeft ook veel kaarten die iets doen met equipments. Zoals
Kemba, Kha Regent
,
Sigarda's Aid
,
Stoneforge Mystic
,
Danitha Capashen, Paragon
.
Je ziet dat witte decks vaak aan van de bovenstaande staande tactieken toepassen. Zonder deze tactieken is het voor wit vrij lastig om het spel te beëindigen.
Tot de volgende keer wanneer groen behandeld gaat worden.