Omschrijving
R(Ally)ing the Troops is een midrange Ally Tribal deck met alleen kaarten uit , , , , en dat geschikt is voor semi-casual Modern gebruik en Planar enthousiastelingen.

Het Ally Subtype is heel divers, maar deze bouw richt zich op Allies met "Rally" effecten en het uitdelen van +1/+1 counters. Het doel is om steeds zo veel mogelijk Allies op het veld te hebben en elke beurt minstens één nieuwe Ally te spelen zodat enerzijds al hun effecten activeren en ze anderzijds door Kazuul Warlord opgepompt worden.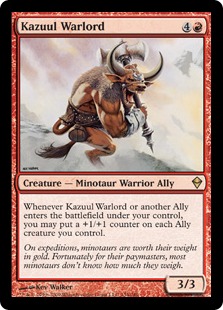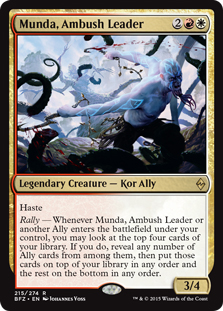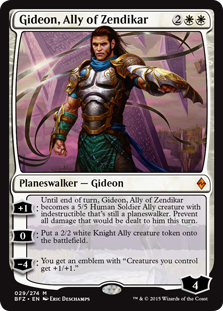 Om momentum vast te houden gebruik je Sea Gate Wreckage om meer kaarten te trekken, en Munda om je volgende kaart voor te sorteren om zo
dead draws
te voorkomen. Je leger wordt ondersteund door de legendarische Gideon, Ally of Zendikar en een klein legertje aan Tokens die steeds weer je Rally effecten activeren en zelf ook graag met de Warlord samenwerken.
Je doel is om een aantal Allies op het veld te krijgen en te houden en hun effecten te stapelen voor de overwinning. De enige kaart die wat meer uitleg vraagt is Munda. Na de eerste 5-10 beurten ga je geen Lands meer willen spelen (5 zijn genoeg) of je goedkoopste Allies (Freeblades en Clerics). Wat niet op het eerste zicht duidelijk is is dat je niet verplicht bent om álle Allies die je met zijn effect omdraait te laten zien, dus kun je niet alleen Lands wegfilteren, maar ook Allies die je niet wilt trekken. Helaas raak je zo wel Gideon kwijt, dus idealiter heb je daar al een of twee kopieën van getrokken voor je Munda begint te activeren. Hoe het ook zij, op een gegeven moment wil je het zo organiseren dat je elke beurt een nieuwe Ally trekt met CMC >3 voor maximale impact.
Voor de rest: speel Allies, activeer effecten en win. Moeilijker hoef je het meestal niet te maken. Je hebt geen removal, maar met dit deck win je toch alleen maar door de tegenstander te overweldigen. Tegen Burn en Evasion heb je Ondu Cleric om de race te winnen, tegen Artifacts tech je Tuktuk Scrapper, tegen grind decks tech je een Loremaster (die je met Ally Encampment kunt oproepen).