Aberrant Mind Sorcerer (foil)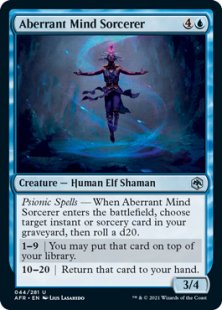 Op voorraad. Voor 16:00 uur besteld, morgen in huis.
Spaar gratis spelpunten
Gratis verzending NL vanaf € 50
Vandaag besteld? Morgen in huis*
Beoordeeld met een 9.2
Spaar voor gratis producten
70.000+ producten op voorraad
Productbeschrijving
Psionic Spells — When Aberrant Mind Sorcerer enters the battlefield, choose target instant or sorcery card in your graveyard, then roll a d20.
1-9 | You may put that card on top of your library.
10-20 | Return that card to your hand.
Kaart informatie
Naam
Aberrant Mind Sorcerer
Mana Cost
Mana value
5
Type
Creature - Human Elf Shaman
Set
Adventures in the Forgotten Realms
Rarity
Uncommon
Oracle tekst
Psionic Spells — When Aberrant Mind Sorcerer enters the battlefield, choose target instant or sorcery card in your graveyard, then roll a d20.
1-9 | You may put that card on top of your library.
10-20 | Return that card to your hand.
Power
3
Toughness
4
Artiest
Lius Lasahido
Aberrant Mind Sorcerer edities
Decks met Aberrant Mind Sorcerer