Ambulatory Edifice (foil)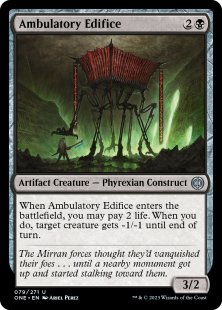 Op voorraad. Voor 16:00 uur besteld, morgen in huis.
Spaar gratis spelpunten
Gratis verzending NL vanaf € 50
Vandaag besteld? Morgen in huis*
Beoordeeld met een 9.2
Spaar voor gratis producten
70.000+ producten op voorraad
Productbeschrijving
When Ambulatory Edifice enters the battlefield, you may pay 2 life. When you do, target creature gets -1/-1 until end of turn.
Kaart informatie
| | |
| --- | --- |
| Naam | Ambulatory Edifice |
| Mana Cost | |
| Mana value | 3 |
| Type | Artifact Creature - Phyrexian Construct |
| Set | Phyrexia: All Will Be One |
| Rarity | Uncommon |
| Oracle tekst | When Ambulatory Edifice enters the battlefield, you may pay 2 life. When you do, target creature gets -1/-1 until end of turn. |
| Power | 3 |
| Toughness | 2 |
| Flavortekst | The Mirran forces thought they'd vanquished their foes . . . until a nearby monument got up and started stalking toward them. |
| Artiest | |
Ambulatory Edifice edities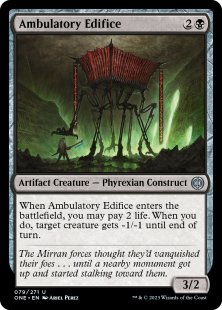 Decks met Ambulatory Edifice