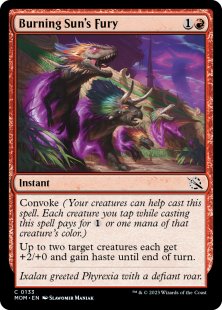 Op voorraad. Voor 16:00 uur besteld, morgen in huis.
Spaar gratis spelpunten
Gratis verzending NL vanaf € 50
Vandaag besteld? Morgen in huis*
Beoordeeld met een 9.2
Spaar voor gratis producten
70.000+ producten op voorraad
Productbeschrijving
Convoke (Your creatures can help cast this spell. Each creature you tap while casting this spell pays for 1 or one mana of that creature's color.)
Up to two target creatures each get +2/+0 and gain haste until end of turn.
Kaart informatie
Naam
Burning Sun's Fury
Mana Cost
Mana value
2
Type
Instant
Set
March of the Machine
Rarity
Common
Oracle tekst
Convoke (Your creatures can help cast this spell. Each creature you tap while casting this spell pays for 1 or one mana of that creature's color.)
Up to two target creatures each get +2/+0 and gain haste until end of turn.
Flavortekst
Ixalan greeted Phyrexia with a defiant roar.
Artiest
Slawomir Maniak
Burning Sun's Fury edities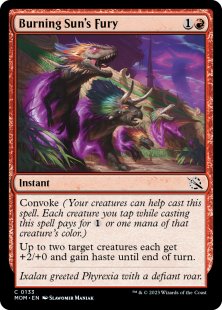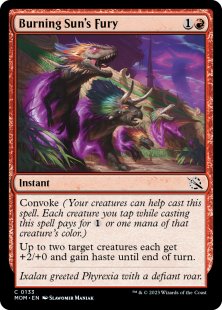 Decks met Burning Sun's Fury