Commander 2018: Subjective Reality (White, Blue & Black)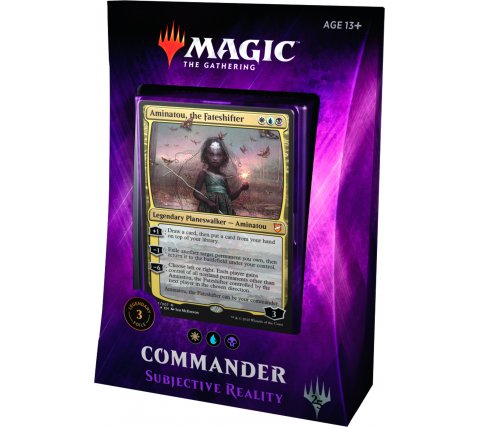 Subjective Reality is het wit, blauw en zwarte top-card-of-your-deck-matters Commander deck uit 2018!

In 2018 komt Wizards of the Coast met een set van vier gloednieuwe Commander Decks! Commander (vroeger EDH) is een Magic: the Gathering speltype waarbij iedere speler speelt met een deck van 99 kaarten, aangevoerd door een Legendary Creature: de Commander. Afgezien van de 6 basic lands mag een Commander deck geen dubbele kaarten bevatten en in de kaartkeuze voor het deck ben je bovendien beperkt tot de kleuren van je Commander.

Om dit populaire format te ondersteunen heeft Wizards nu vier nieuwe Commander decks ontworpen. Elk deck bevat 100 blackbordered kaarten, waaronder 15 gloednieuwe, nog nooit eerder uitgebrachte kaarten. Elk deck bevat drie gloednieuwe foil Commanders. Alle nieuwe kaarten zijn tournament legal in Vintage en Legacy.

Dit Commander 2018 deck bevat:

- Een deck van 100 blackbordered kaarten, waarvan 15 nooit eerder uitgebrachte kaarten.
- Drie nieuwe foil Commanders.
- Een foil oversized versie van een Commander.
- 10 double faced tokens per deck.
Momenteel niet op voorraad
Decklijst Commander 2018: Subjective Reality