Crown of Suspicion (foil)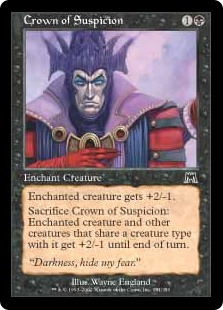 Op voorraad. Voor 16:00 uur besteld, morgen in huis.
Spaar gratis spelpunten
Gratis verzending NL vanaf € 50
Vandaag besteld? Morgen in huis*
Beoordeeld met een 9.2
Spaar voor gratis producten
70.000+ producten op voorraad
Productbeschrijving
Enchant creature
Enchanted creature gets +2/-1.
Sacrifice Crown of Suspicion: Enchanted creature and other creatures that share a creature type with it get +2/-1 until end of turn.
Kaart informatie
Naam
Crown of Suspicion
Mana Cost
Mana value
2
Type
Enchantment - Aura
Set
Onslaught
Rarity
Common
Oracle tekst
Enchant creature
Enchanted creature gets +2/-1.
Sacrifice Crown of Suspicion: Enchanted creature and other creatures that share a creature type with it get +2/-1 until end of turn.
Flavortekst
"Darkness, hide my fear."
Artiest
Wayne England
Crown of Suspicion edities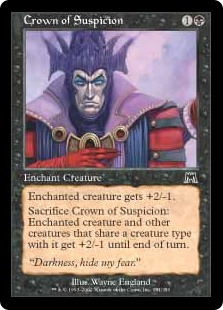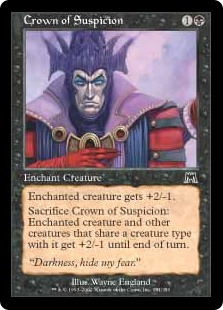 Decks met Crown of Suspicion