Escaped Experiment (foil)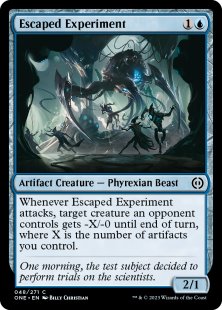 Op voorraad. Voor 16:00 uur besteld, morgen in huis.
Spaar gratis spelpunten
Gratis verzending NL vanaf € 50
Vandaag besteld? Morgen in huis*
Beoordeeld met een 9.2
Spaar voor gratis producten
70.000+ producten op voorraad
Productbeschrijving
Whenever Escaped Experiment attacks, target creature an opponent controls gets -X/-0 until end of turn, where X is the number of artifacts you control.
Kaart informatie
| | |
| --- | --- |
| Naam | Escaped Experiment |
| Mana Cost | |
| Mana value | 2 |
| Type | Artifact Creature - Phyrexian Beast |
| Set | Phyrexia: All Will Be One |
| Rarity | Common |
| Oracle tekst | Whenever Escaped Experiment attacks, target creature an opponent controls gets -X/-0 until end of turn, where X is the number of artifacts you control. |
| Power | 2 |
| Toughness | 1 |
| Flavortekst | One morning, the test subject decided to perform trials on the scientists. |
| Artiest | Billy Christian |
Escaped Experiment edities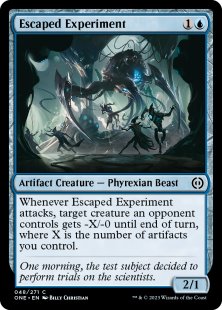 Decks met Escaped Experiment