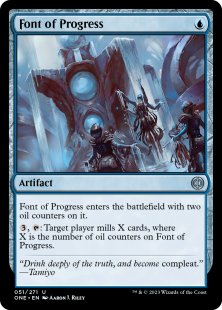 Op voorraad. Nu besteld, dinsdag in huis.
Spaar gratis spelpunten
Gratis verzending NL vanaf € 50
Vandaag besteld? Morgen in huis*
Beoordeeld met een 9.2
Spaar voor gratis producten
70.000+ producten op voorraad
Productbeschrijving
Font of Progress enters the battlefield with two oil counters on it.
, : Target player mills X cards, where X is the number of oil counters on Font of Progress.
Kaart informatie
Naam
Font of Progress
Mana Cost
Mana value
1
Type
Artifact
Set
Phyrexia: All Will Be One
Rarity
Uncommon
Oracle tekst
Font of Progress enters the battlefield with two oil counters on it.
, : Target player mills X cards, where X is the number of oil counters on Font of Progress.
Flavortekst
"Drink deeply of the truth, and become *compleat*." —Tamiyo
Artiest
Aaron J. Riley
Font of Progress edities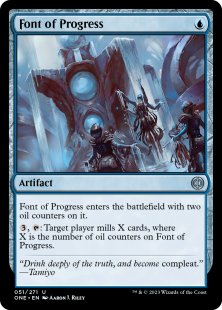 Decks met Font of Progress