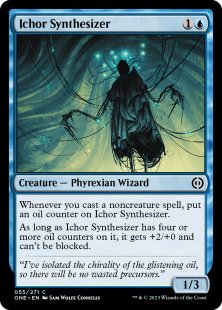 Op voorraad. Voor 16:00 uur besteld, morgen in huis.
Spaar gratis spelpunten
Gratis verzending NL vanaf € 50
Vandaag besteld? Morgen in huis*
Beoordeeld met een 9.2
Spaar voor gratis producten
70.000+ producten op voorraad
Productbeschrijving
Whenever you cast a noncreature spell, put an oil counter on Ichor Synthesizer.
As long as Ichor Synthesizer has four or more oil counters on it, it gets +2/+0 and can't be blocked.
Kaart informatie
Naam
Ichor Synthesizer
Mana Cost
Mana value
2
Type
Creature - Phyrexian Wizard
Set
Phyrexia: All Will Be One
Rarity
Common
Oracle tekst
Whenever you cast a noncreature spell, put an oil counter on Ichor Synthesizer.
As long as Ichor Synthesizer has four or more oil counters on it, it gets +2/+0 and can't be blocked.
Power
1
Toughness
3
Flavortekst
"I've isolated the chirality of the glistening oil, so there will be no wasted precursors."
Artiest
Sam Wolfe Connelly
Ichor Synthesizer edities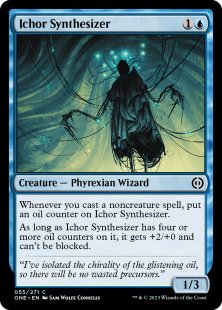 Decks met Ichor Synthesizer