Op voorraad. Voor 16:00 uur besteld, morgen in huis.
Spaar gratis spelpunten
Gratis verzending NL vanaf € 50
Vandaag besteld? Morgen in huis*
Beoordeeld met een 9.2
Spaar voor gratis producten
70.000+ producten op voorraad
Productbeschrijving
(As a Siege enters, choose an opponent to protect it. You and others can attack it. When it's defeated, exile it, then cast it transformed.)
When Invasion of Azgol enters the battlefield, target player sacrifices a creature or planeswalker and loses 1 life.
----
Menace
At the beginning of your end step, put a +1/+1 counter on Ashen Reaper if a permanent was put into a graveyard from the battlefield this turn.
Kaart informatie
Naam
Invasion of Azgol
Mana Cost
Mana value
2
Type
Battle - Siege // Creature - Zombie Elemental
Set
March of the Machine
Rarity
Uncommon
Defence
4
Oracle tekst
(As a Siege enters, choose an opponent to protect it. You and others can attack it. When it's defeated, exile it, then cast it transformed.)
When Invasion of Azgol enters the battlefield, target player sacrifices a creature or planeswalker and loses 1 life.
----
Menace
At the beginning of your end step, put a +1/+1 counter on Ashen Reaper if a permanent was put into a graveyard from the battlefield this turn.
Artiest
Joshua Raphael
Invasion of Azgol edities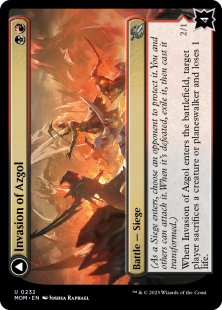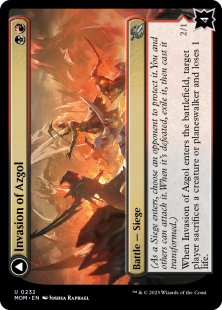 Decks met Invasion of Azgol