Magic Board Game - Arena of the Planeswalker + Expansion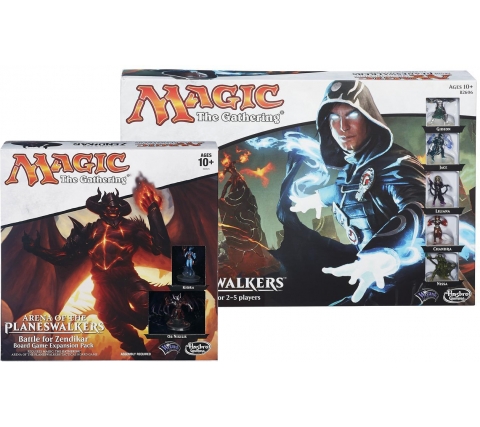 Het enige echte bordspel van Magic: the Gathering - Arena of the Planeswalkers in combinatie met de eerste uitbreiding: Battle for Zendikar.

De Magic Multiverse bestaat uit een oneindig aantal Planes (werelden). De meeste wezens leven en sterven zonder ooit te weten dat hun wereld niet de enige is, maar er zijn enkelen die zijn geboren met 'de spark'. Als hun spark ontbrandt, zijn deze zeldzame mages de enigen die in staat zijn te reizen naar talloze Planes van de Multiverse. Daar ontwikkelen ze krachten die anders onmogelijk te bereiken zijn. Zij staan bekend als Planeswalkers.

Breng magische gevechten naar de volgende dimensie in de Arena van de Planeswalkers!

Kies uit één van de vijf machtige Planeswalkers: Gideon, Jace, Liliana, Chandra of Nissa. Elke Planeswalker heeft unieke krachten en metgezellen. Creëer elk spel een unieke 3D battlefield, geen spel is hetzelfde. Je doel is wel hetzelfde; zoek en vernietig je vijandelijke Planeswalkers en verzamel punten om te bepalen wie er in de Arena zal heersen en wie er zal sneuvelen... Ben jij klaar voor deze uitdaging?

De uitbreiding beschikt over 2 extra krachtige Planeswalkers: Kiora en Ob Nixilis. Daarnaast introduceert deze uitbreiding ook extra creatures, spells en de allereerste hero creature: de enorme Eldrazi Ruiner. Een speciale slagveld scenario maakt het mogelijk om samen tegen de Eldrazi Ruiner te spelen!

Nieuwe Planeswalkers
De Battle for Zendikar expansion introduceert twee nieuwe Planeswalker waaronder the eerste multi-color Planeswalker: Kiora. Zij kan zowel blauwe als groene creatures en spells gebruiken.

De allereerste hero creature
Deze expansion komt met de allereerste hero creature: de angstaanjagende Eldrazi Ruiner. De Eldrazi zijn colorless creatures en kunnen door Planeswalkers van elke kleur opgeroepen worden. Een speciaal scenario maakt het mogelijk om één speler met de Eldrazi Ruiner tegen meerdere spelers te laten vechten. Probeer met je teamgenoten samen de enorme Eldrazi Ruiner te verslaan en zo Zendikar te redden.
Op voorraad. Bestel nu, dinsdag in huis.
Variaties van Magic Board Game - Arena of the Planeswalker + Expansion