Op voorraad. Voor 16:00 uur besteld, morgen in huis.
Spaar gratis spelpunten
Gratis verzending NL vanaf € 50
Vandaag besteld? Morgen in huis*
Beoordeeld met een 9.2
Spaar voor gratis producten
70.000+ producten op voorraad
Productbeschrijving
Menace
When Nezumi Freewheeler enters the battlefield, each player mills three cards.
: Transform Nezumi Freewheeler. Activate only as a sorcery.
----
Menace
When this creature transforms into Hideous Fleshwheeler, put target permanent card with mana value 2 or less from a graveyard onto the battlefield under your control.
Kaart informatie
Naam
Nezumi Freewheeler
Mana Cost
Mana value
4
Type
Creature — Rat Samurai // Creature — Phyrexian Rat
Set
March of the Machine
Rarity
Uncommon
Oracle tekst
Menace
When Nezumi Freewheeler enters the battlefield, each player mills three cards.
: Transform Nezumi Freewheeler. Activate only as a sorcery.
----
Menace
When this creature transforms into Hideous Fleshwheeler, put target permanent card with mana value 2 or less from a graveyard onto the battlefield under your control.
Power
3
Toughness
3
Artiest
Artur Nakhodkin
Nezumi Freewheeler edities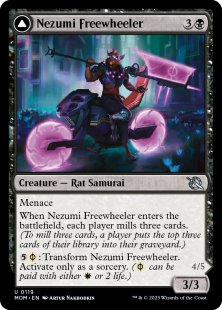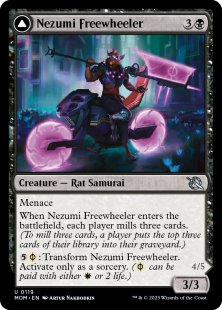 Vergelijkbare kaarten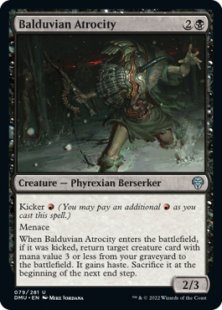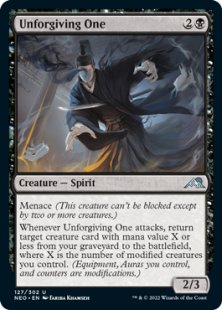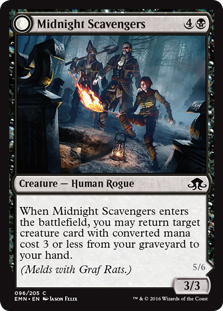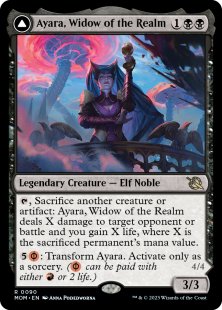 Decks met Nezumi Freewheeler