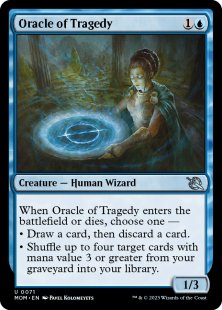 Op voorraad. Nu besteld, dinsdag in huis.
Spaar gratis spelpunten
Gratis verzending NL vanaf € 50
Vandaag besteld? Morgen in huis*
Beoordeeld met een 9.2
Spaar voor gratis producten
70.000+ producten op voorraad
Productbeschrijving
When Oracle of Tragedy enters the battlefield or dies, choose one —
• Draw a card, then discard a card.
• Shuffle up to four target cards with mana value 3 or greater from your graveyard into your library.
Kaart informatie
Naam
Oracle of Tragedy
Mana Cost
Mana value
2
Type
Creature - Human Wizard
Set
March of the Machine
Rarity
Uncommon
Oracle tekst
When Oracle of Tragedy enters the battlefield or dies, choose one —
• Draw a card, then discard a card.
• Shuffle up to four target cards with mana value 3 or greater from your graveyard into your library.
Power
1
Toughness
3
Artiest
Pavel Kolomeyets
Oracle of Tragedy edities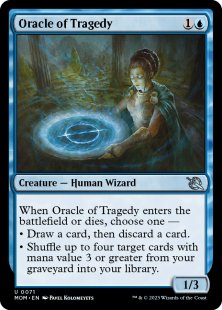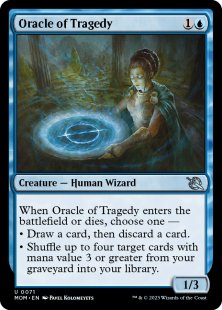 Decks met Oracle of Tragedy