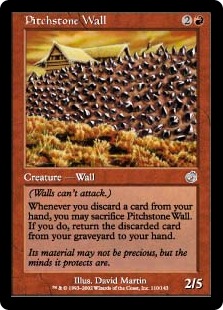 Op voorraad. Voor 16:00 uur besteld, morgen in huis.
Spaar 1 gratis spelpunt
Gratis verzending NL vanaf € 50
Vandaag besteld? Morgen in huis*
Beoordeeld met een 9.2
Spaar voor gratis producten
70.000+ producten op voorraad
Productbeschrijving
Defender (This creature can't attack.)
Whenever you discard a card, you may sacrifice Pitchstone Wall. If you do, return the discarded card from your graveyard to your hand.
Kaart informatie
Naam
Pitchstone Wall
Mana Cost
Mana value
3
Type
Creature - Wall
Set
Torment
Rarity
Uncommon
Oracle tekst
Defender (This creature can't attack.)
Whenever you discard a card, you may sacrifice Pitchstone Wall. If you do, return the discarded card from your graveyard to your hand.
Power
2
Toughness
5
Flavortekst
Its material may not be precious, but the minds it protects are.
Artiest
David Martin
Pitchstone Wall edities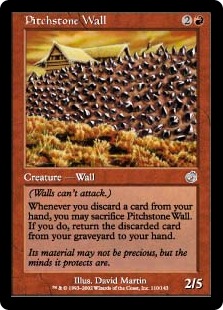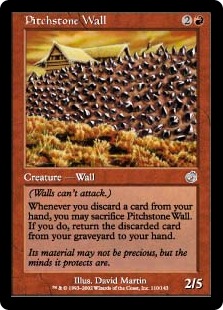 Decks met Pitchstone Wall