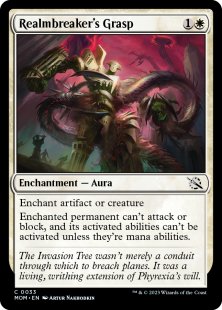 Op voorraad. Nu besteld, dinsdag in huis.
Spaar gratis spelpunten
Gratis verzending NL vanaf € 50
Vandaag besteld? Morgen in huis*
Beoordeeld met een 9.2
Spaar voor gratis producten
70.000+ producten op voorraad
Productbeschrijving
Enchant artifact or creature
Enchanted permanent can't attack or block, and its activated abilities can't be activated unless they're mana abilities.
Kaart informatie
Naam
Realmbreaker's Grasp
Mana Cost
Mana value
2
Type
Enchantment - Aura
Set
March of the Machine
Rarity
Common
Oracle tekst
Enchant artifact or creature
Enchanted permanent can't attack or block, and its activated abilities can't be activated unless they're mana abilities.
Flavortekst
The Invasion Tree wasn't merely a conduit through which to breach planes. It was a living, writhing extension of Phyrexia's will.
Artiest
Artur Nakhodkin
Realmbreaker's Grasp edities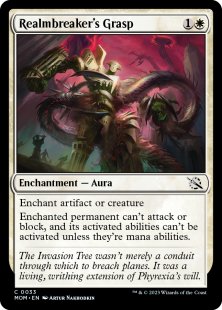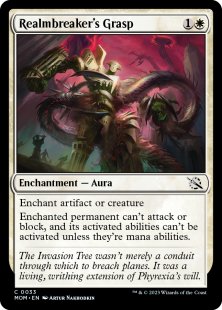 Decks met Realmbreaker's Grasp