Samite Ministration (foil)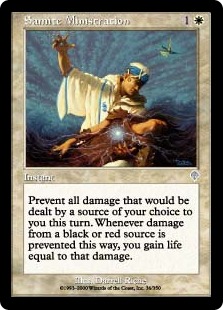 Op voorraad. Nu besteld, vrijdag in huis.
Spaar 2 gratis spelpunten
Gratis verzending NL vanaf € 50
Vandaag besteld? Morgen in huis*
Beoordeeld met een 9.2
Spaar voor gratis producten
70.000+ producten op voorraad
Productbeschrijving
Prevent all damage that would be dealt to you this turn by a source of your choice. Whenever damage from a black or red source is prevented this way this turn, you gain that much life.
Kaart informatie
| | |
| --- | --- |
| Naam | Samite Ministration |
| Mana Cost | |
| Mana value | 2 |
| Type | Instant |
| Set | Invasion |
| Rarity | Uncommon |
| Oracle tekst | Prevent all damage that would be dealt to you this turn by a source of your choice. Whenever damage from a black or red source is prevented this way this turn, you gain that much life. |
| Artiest | Darrell Riche |
Samite Ministration edities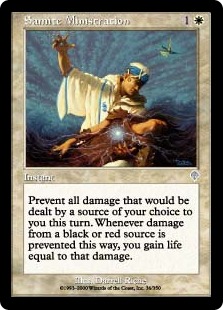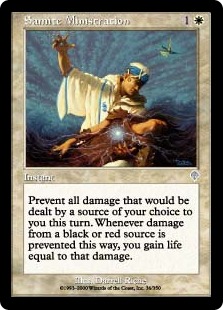 Decks met Samite Ministration