Spoils of the Hunt (foil)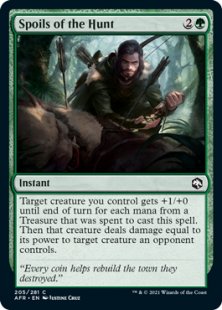 Op voorraad. Nu besteld, dinsdag in huis.
Spaar gratis spelpunten
Gratis verzending NL vanaf € 50
Vandaag besteld? Morgen in huis*
Beoordeeld met een 9.2
Spaar voor gratis producten
70.000+ producten op voorraad
Productbeschrijving
Target creature you control gets +1/+0 until end of turn for each mana from a Treasure that was spent to cast this spell. Then that creature deals damage equal to its power to target creature an opponent controls.
Kaart informatie
| | |
| --- | --- |
| Naam | Spoils of the Hunt |
| Mana Cost | |
| Mana value | 3 |
| Type | Instant |
| Set | Adventures in the Forgotten Realms |
| Rarity | Common |
| Oracle tekst | Target creature you control gets +1/+0 until end of turn for each mana from a Treasure that was spent to cast this spell. Then that creature deals damage equal to its power to target creature an opponent controls. |
| Flavortekst | "Every coin helps rebuild the town they destroyed." |
| Artiest | Justine Cruz |
Spoils of the Hunt edities
Decks met Spoils of the Hunt