Starter Commander Deck: Draconic Destruction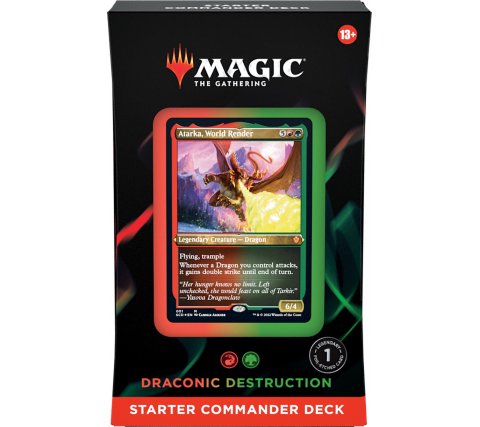 Productbeschrijving
Draconic Destruction is het rood & groene starter commander deck!

Commander is één van de meest populaire manieren om Magic: the Gathering te spelen. Met dit makkelijk-in-te-stappen deck kan je meteen starten met spelen vanuit de doos. Kijk jij er naar uit om de wondere wereld van commander te ontdekken? Dan is dit deck perfect voor jou!

Commander (vroeger EDH) is een Magic: the Gathering speltype waarbij iedere speler speelt met een deck van 99 kaarten, aangevoerd door een legendary creature: de commander. Afgezien van de 6 basic lands mag een commander deck geen dubbele kaarten bevatten en in de kaartkeuze voor het deck ben je bovendien beperkt tot de kleuren van je commander.

Om dit populaire multiplayer format te ondersteunen heeft Wizards of the Coast vijf starter commander decks ontworpen voor de beginnende commander speler. Elk deck bevat 100 blackbordered kaarten waaronder één prachtige foil commander.

Dit Starter Commander Deck bevat:

- Een deck van 100 blackbordered kaarten.
- Een foil commander.
- 10 double faced tokens per deck.
- Een kartonnen deckbox.
Starter Commander Deck: Draconic Destruction variaties
Decklijst Starter Commander Deck: Draconic Destruction