Op voorraad. Voor 16:00 uur besteld, morgen in huis.
Spaar gratis spelpunten
Gratis verzending NL vanaf € 50
Vandaag besteld? Morgen in huis*
Beoordeeld met een 9.2
Spaar voor gratis producten
70.000+ producten op voorraad
Productbeschrijving
: Transform Sun-Blessed Guardian. Activate only as a sorcery. ( be paid with either or 2 life.)
----
Whenever Furnace-Blessed Conqueror attacks, create a tapped and attacking token that's a copy of it. Put a +1/+1 counter on that token for each +1/+1 counter on Furnace-Blessed Conqueror. Sacrifice that token at the beginning of the next end step.
Kaart informatie
Naam
Sun-Blessed Guardian
Mana Cost
Mana value
2
Type
Creature - Human Cleric // Creature - Phyrexian Cleric
Set
March of the Machine
Rarity
Uncommon
Oracle tekst
: Transform Sun-Blessed Guardian. Activate only as a sorcery. ( be paid with either or 2 life.)
----
Whenever Furnace-Blessed Conqueror attacks, create a tapped and attacking token that's a copy of it. Put a +1/+1 counter on that token for each +1/+1 counter on Furnace-Blessed Conqueror. Sacrifice that token at the beginning of the next end step.
Power
2
Toughness
2
Artiest
Brian Valeza
Sun-Blessed Guardian edities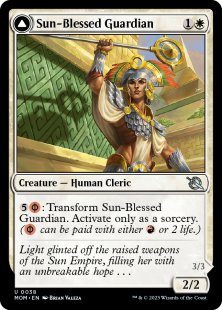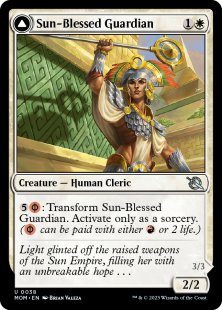 Decks met Sun-Blessed Guardian