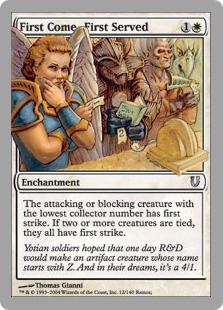 Op voorraad. Nu besteld, vrijdag in huis.
Spaar gratis spelpunten
Gratis verzending NL vanaf € 50
Vandaag besteld? Morgen in huis*
Beoordeeld met een 9.2
Spaar voor gratis producten
70.000+ producten op voorraad
Productbeschrijving
The attacking or blocking creature with the lowest collector number has first strike. If two or more creatures are tied, they all have first strike.
Kaart informatie
| | |
| --- | --- |
| Naam | First Come, First Served |
| Mana Cost | |
| Mana value | 2 |
| Type | Enchantment |
| Set | Unhinged |
| Rarity | Uncommon |
| Oracle tekst | The attacking or blocking creature with the lowest collector number has first strike. If two or more creatures are tied, they all have first strike. |
| Flavortekst | The Yotian soldiers hoped that one day R&D would make an artifact creature whose name starts with Z. And in their dreams, it's a 4/1. |
| Artiest | Thomas Gianni |
First Come, First Served edities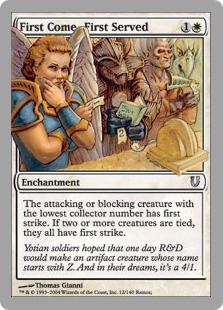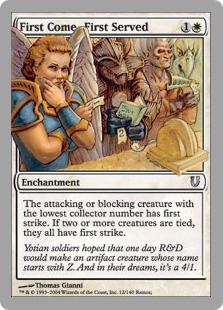 Decks met First Come, First Served