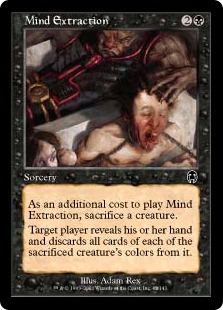 Op voorraad. Nu besteld, zaterdag in huis.
Spaar gratis spelpunten
Gratis verzending NL vanaf € 50
Vandaag besteld? Morgen in huis*
Beoordeeld met een 9.2
Spaar voor gratis producten
70.000+ producten op voorraad
Productbeschrijving
As an additional cost to cast Mind Extraction, sacrifice a creature.
Target player reveals his or her hand and discards all cards of each of the sacrificed creature's colors.
Kaart informatie
Naam
Mind Extraction
Mana Cost
Mana value
3
Type
Sorcery
Set
Apocalypse
Rarity
Common
Oracle tekst
As an additional cost to cast Mind Extraction, sacrifice a creature.
Target player reveals his or her hand and discards all cards of each of the sacrificed creature's colors.
Artiest
Adam Rex
Mind Extraction edities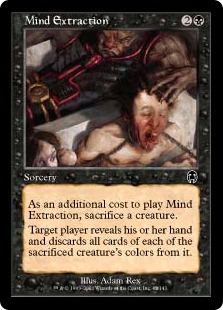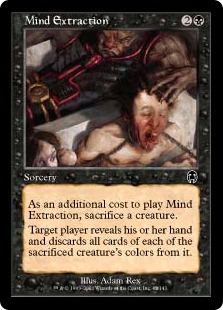 Decks met Mind Extraction