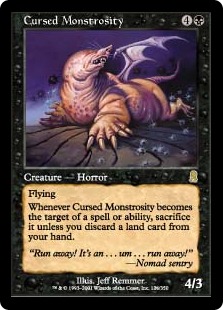 Op voorraad. Nu besteld, woensdag in huis.
Spaar gratis spelpunten
Gratis verzending NL vanaf € 50
Vandaag besteld? Morgen in huis*
Beoordeeld met een 9.2
Spaar voor gratis producten
70.000+ producten op voorraad
Productbeschrijving
Flying
Whenever Cursed Monstrosity becomes the target of a spell or ability, sacrifice it unless you discard a land card.
Kaart informatie
Naam
Cursed Monstrosity
Mana Cost
Mana value
5
Type
Creature - Horror
Set
Odyssey
Rarity
Rare
Oracle tekst
Flying
Whenever Cursed Monstrosity becomes the target of a spell or ability, sacrifice it unless you discard a land card.
Power
4
Toughness
3
Flavortekst
"Run away! It's an... um... run away!" - Nomad sentry
Artiest
Jeff Remmer
Cursed Monstrosity edities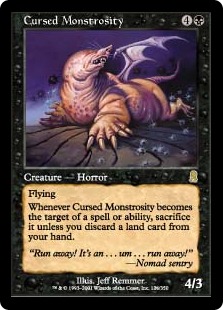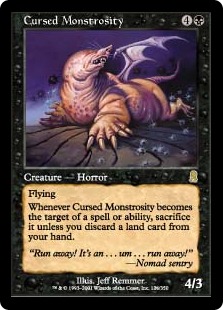 Decks met Cursed Monstrosity