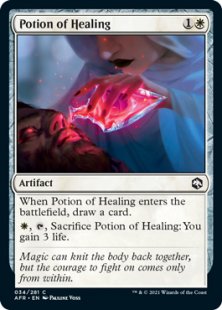 Op voorraad. Nu besteld, zaterdag in huis.
Spaar gratis spelpunten
Gratis verzending NL vanaf € 50
Vandaag besteld? Morgen in huis*
Beoordeeld met een 9.2
Spaar voor gratis producten
70.000+ producten op voorraad
Productbeschrijving
When Potion of Healing enters the battlefield, draw a card.
, , Sacrifice Potion of Healing: You gain 3 life.
Kaart informatie
Naam
Potion of Healing
Mana Cost
Mana value
2
Type
Artifact
Set
Adventures in the Forgotten Realms
Rarity
Common
Oracle tekst
When Potion of Healing enters the battlefield, draw a card.
, , Sacrifice Potion of Healing: You gain 3 life.
Flavortekst
Magic can knit the body back together, but the courage to fight on comes only from within.
Artiest
Pauline Voss
Potion of Healing edities
Decks met Potion of Healing