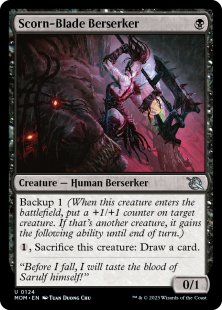 Op voorraad. Nu besteld, dinsdag in huis.
Spaar gratis spelpunten
Gratis verzending NL vanaf € 50
Vandaag besteld? Morgen in huis*
Beoordeeld met een 9.2
Spaar voor gratis producten
70.000+ producten op voorraad
Productbeschrijving
Backup 1 (When this creature enters the battlefield, put a +1/+1 counter on target creature. If that's another creature, it gains the following abilities until end of turn.)
, Sacrifice this creature: Draw a card.
Kaart informatie
Naam
Scorn-Blade Berserker
Mana Cost
Mana value
1
Type
Creature — Human Berserker
Set
March of the Machine
Rarity
Uncommon
Oracle tekst
Backup 1 (When this creature enters the battlefield, put a +1/+1 counter on target creature. If that's another creature, it gains the following abilities until end of turn.)
, Sacrifice this creature: Draw a card.
Power
0
Toughness
1
Flavortekst
"Before I fall, I will taste the blood of Sarulf himself!"
Artiest
Tuan Duong Chu
Scorn-Blade Berserker edities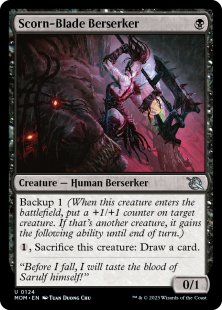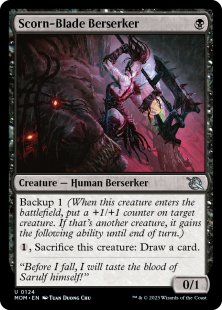 Decks met Scorn-Blade Berserker