Fleshless Gladiator (foil)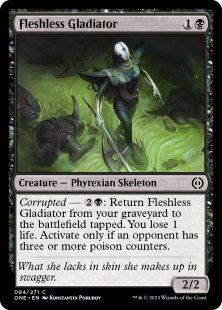 Op voorraad. Voor 16:00 uur besteld, morgen in huis.
Spaar gratis spelpunten
Gratis verzending NL vanaf € 50
Vandaag besteld? Morgen in huis*
Beoordeeld met een 9.2
Spaar voor gratis producten
70.000+ producten op voorraad
Productbeschrijving
Corrupted — : Return "Fleshless Gladiator" from your graveyard to the battlefield tapped. You lose 1 life. Activate only if an opponent has three or more poison counters.
Kaart informatie
| | |
| --- | --- |
| Naam | Fleshless Gladiator |
| Mana Cost | |
| Mana value | 2 |
| Type | Creature - Phyrexian Skeleton |
| Set | Phyrexia: All Will Be One |
| Rarity | Common |
| Oracle tekst | Corrupted — : Return "Fleshless Gladiator" from your graveyard to the battlefield tapped. You lose 1 life. Activate only if an opponent has three or more poison counters. |
| Power | 2 |
| Toughness | 2 |
| Artiest | Konstantin Porubov |
Fleshless Gladiator edities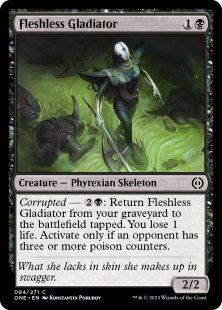 Decks met Fleshless Gladiator