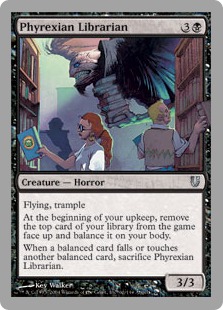 Op voorraad. Voor 16:00 uur besteld, morgen in huis.
Spaar gratis spelpunten
Gratis verzending NL vanaf € 50
Vandaag besteld? Morgen in huis*
Beoordeeld met een 9.2
Spaar voor gratis producten
70.000+ producten op voorraad
Productbeschrijving
Flying, trample
At the beginning of your upkeep, remove the top card of your library from the game face up and balance it on your body.
When a balanced card falls or touches another balanced card, sacrifice Phyrexian Librarian.
Kaart informatie
Naam
Phyrexian Librarian
Mana Cost
Mana value
4
Type
Creature - Horror
Set
Unhinged
Rarity
Uncommon
Oracle tekst
Flying, trample
At the beginning of your upkeep, remove the top card of your library from the game face up and balance it on your body.
When a balanced card falls or touches another balanced card, sacrifice Phyrexian Librarian.
Power
3
Toughness
3
Artiest
Kev Walker
Phyrexian Librarian edities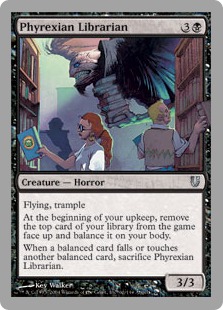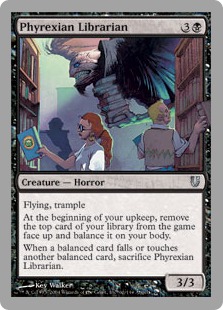 Decks met Phyrexian Librarian